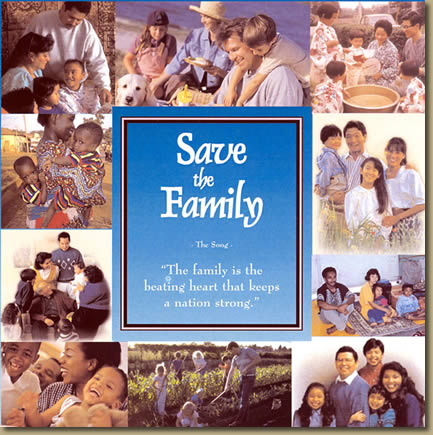 Music is the universal language and has the power to touch hearts in a way nothing else can. With this in mind, a new song, Save the Family, has been written by Janice Kapp Perry and Joy Saunders Lundberg. It is our hope that it will inspire parents and rally people worldwide to rise up and help protect the family.
Download Music Online FREE
Instructions: Click on any of the links below to listen to Save the Family in its entirety. If you would like to download this music, right-click and select "Save Target As" from the contextual menu (exact wording varies from browser to browser). Each file is approximately 5 megabytes in size (a 10-20 minute download).
FREE SHEET MUSIC: To download the CD or to print the Save the Family sheet music, please follow these steps:
1. Fill out the following form. (This information will not be given to others. It lets us know where and by whom the song is being used.)
cforms contact form by delicious:days
2. Click as instructed above for downloading the CD.
3. Click one of the links below:
English
Spanish
Note: This song can be played on radio and at all events without paying a royalty fee. However, copyright protection does apply. See below.*
*The song is copyrighted and may not be used for commercial profit-making purposes without written permission. Contact us via our website or call 801-224-3447.
© Copyright Joy Saunders Lundberg & Janice Kapp Perry 2004
Save the Family Recordings – All rights reserved.
The song is also available in English and Spanish on Janice Kapp Perry's recent CD of new songs, By Small and Simple Means, availiable at http://www.janicekappperry.com/index.php?action=newreleases&node=&id=146
© Copyright Joy Saunders Lundberg & Janice Kapp Perry 2004
All rights reserved.