Our Mission
The mission of the Lundberg Company is to strengthen marriages and families worldwide. We do this by:
• Writing books that teach principles to strengthen all family relationships (Link)
• Writing articles for magazines (online and hard copy), including FamilyShare.com
• Doing marriage and family therapy (For appointments with Gary call 801-224-3447)
• Writing songs that inspire faith in God and devotion to family and family values (Joy, with composer
Janice Kapp Perry)
Gary and Joy Lundberg's biographical information:
Gary B. Lundberg, MA, MFT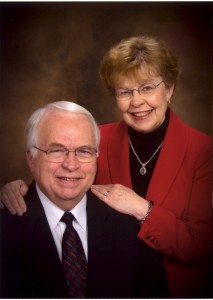 Gary, is a licensed marriage and family therapist and co-author, with his wife Joy, of their books on relationships, I Don't Have to Make Everything All Better, their novel Meeting Amazing Grace: Wisdom for all Families and In-laws, Love That Lasts: 14 Secrets to a More Joyful, Passionate, and Fulfilling Marriage, and most recently, Because We Love Our Marriage: 12 Ways to Safeguard Your Eternal Relationship, and their book for youth and young adults On Guard! Seven Safeguards to Protect Your Sexual Purity.
This same expertise carries over into his keynote addresses, workshops, and seminars as he teaches simple, yet powerful, do-able skills that improve relationships in all walks of life, including the work place.
Gary is a performing vocalist and has recorded an album entitled Heart to Heart, songs to inspire marital love and strengthen families—words by his wife Joy and music by renown composer Janice Kapp Perry, with orchestral arrangements by award winning Greg Hansen.
Gary formerly served on the behavioral medicine staff of Utah Valley Regional Medical Center. Before following his heart into the work he truly loves, he worked for IBM and was CEO of an electronics firm. He also served as a fighter pilot in the United States Air Force. All of these experiences have enhanced his ability to understand the many challenges his clients face.
As a hobby he enjoys building and repairing.  Gary was born and raised in Washington, DC, one of three boys.
Joy Saunders Lundberg
Joy is a prize-winning lyricist and has written nearly 200 published songs with composer Janice Kapp Perry, including their most popular album I Walk By Faith. She has written narratives and lyrics to four sacred choir cantatas.
Joy served seven years as a script writer for the syndicated worldwide radio/TV broadcast "Music and the Spoken Word." She is the author of numerous magazine articles, and has an inspiring series of illustrated poetry on family and religious themes.
She was reared in the farmlands of eastern Oregon, with seven brothers and one sister.
Gary and Joy co-hosted their own weekly radio talk show, "Morning Break with the Lundbergs," for six years. Gary and Joy have appeared as guests on radio and TV talk shows across the country.
They served a part-time mission for five years with the World Family Policy Center at the BYU J. Reuben Clark Law School attending and presenting at U.N. meetings and international conferences on family issues. They also served on the boards of the Worldwide Organization for Women, and Family Watch International to help protect families.
They are the parents of five grown children — Michael, Lynda, Carol, John, and Paul, who together have given their parents twenty grandchildren.